Is that you Yoda? Philippines travel
A Fascination Philippines Travel experience.
Recently, I visited the island paradise of Bohol, one of 7000 islands of the Philippines archipelago. At about 4pm on a Wednesday, I walked out from the Tagbilaran ferry wharf, and was approached by taxi and tricycle touts, after a fare.
The odd looking Bohol tricycle was an unusual form of transport so I decided to take a ride. It was colourful mini vehicle fashioned from a motorcycle with a side car. At its rear was space for my luggage and a roof to make sure that the driver and passenger stayed dry.
As we passed other tricycles, the driver explained that the every tricycle had a tag line from the bible at the rear of the vehicle that was required by law. Apparently, originally, they had allowed advertising and because the adverts showed beautiful women in bikinis, it caused problems with morality. As such the government had implemented this interesting law.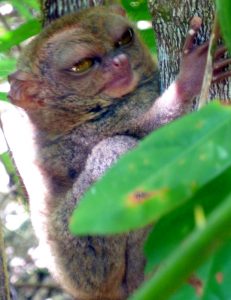 The next day, a shiny black limousine pulled up at the front of Cherrys Hotel at 7am. We visited the interesting Chocolate Hills, thousands of small hills, all about the same height and shape. Originally called the Carmen Hills consistent with the name of the nearby town, the name was changed to Chocolate Hills to attract more tourists.
We passed through the man made mahogany forests, a fantastic place where huge mahogany trees provided shelter for all sorts of small animals whilst stabilising the ground to stop landslides. In a brief stop there, we were lucky enough to see an 18cm millipede.
We passed beautiful green rice fields surrounded by coconut trees. Eventually we stopped at a small conservation park. It was home to 4 tarsiers, one of the smallest primates in the world. A full size adult would fit in the palm of your hand. However, the most interesting thing was that the creature looked almost the same as Yoda from Star Wars. Is that you Yoda?