Description
Personalised Luggage Tags
Personalised Luggage tags mean that there is no mistaking your luggage at the carousel. Create your own luggage tags. We make two of exactly the same design. You create your design and upload it to us using the specifications below. We print it directly onto plastic. It is not a plastic wannabee laminate. We then add a backing plate to keep it from breaking (and to hide your contact details) and a quality cord to attach it to your luggage without breaking. Pricing includes free return postage within Australia. There is no need for a pretty ribbon. You will be able to see and identify your luggage from afar. There will be no argument as to whose it is. If lost and you have your name and contact it will be easy for authorities to identify who it belongs to.
We print your name and phone number on the hidden reverse side of the luggage tags.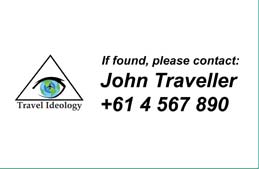 We will ask you details for the back of tag at checkout.
Specifications for your front image
Please create your JPG at 1370 x 2126 pixels using the CMYK colour space. Name the file with your surname for ease of identification. If there are multiple designs required, then use your surname and then 1,2,3,4,etc as the name. Please note that you must own the copyright to any images submitted.
We will email you when we receive your order. Please email your design back to us.
Buy your luggage tags today at Travel Ideology, your one stop Australian shop for quality travel gear and accessories.
Our other travel luggage tags may also interest you.